Gaetano Pareschi
San Martino (FE), 1900 - Cavacurta (MI), 1987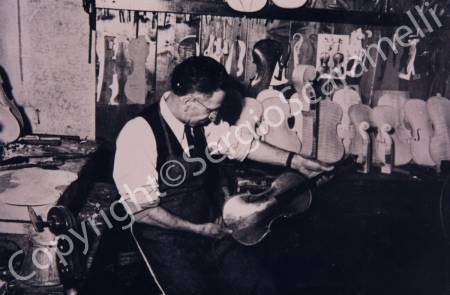 Gaetano Pareschi
BIOGRAPHY
At the age of 14, he built a guitar and a mandolin. After a period spent in multiple activities, including that of violinist, he decided to commit totally to lutherie. He frequented the workshop of Ettore Soffritti, who was always willing to give him the best advice. In 1923 he built violins after the great masters of Cremona and became well known even outside Ferrara. He continued to research and experiment, the varnish went from golden yellow to red-brown, until in 1929 (Soffritti had been dead for a year and musicians were turning to him), he began to build instruments of the highest level. He preferred the Stradivari model, but he also made some very successful copies of Ettore Soffritti.
From 1930 he devoted himself to developing a personal, decidedly unmistakable style. In these years he made his best instruments. He was a friend of Ernesto Pevere and Anselmo Gotti.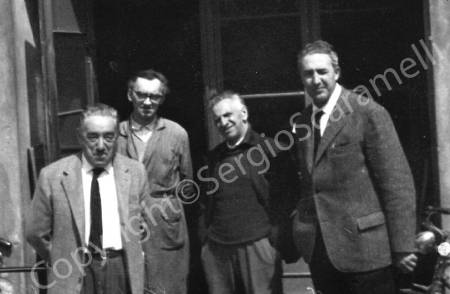 Antonio Boscoli, Anselmo Gotti, Gaetano Pareschi and Giorgio Rizzi in front of Gotti's workshop at the Conservatory in 1955
In 1940 he began to take part in some exhibitions and, from this very year, he received his first official awards, culminating in the Honorable mention at the Cremona International violin making Competition in 1950. He also became famous abroad and was commissioned instruments from England. from the Scandinavian countries and, later, even from Brazil, where his son Giancarlo (photo below) had the role of principal violin in the Rio de Janeiro Orchestra, now held by his granddaughter Antonella.
In a letter of his dated 30 April 1967, he declared that, up to that moment, he had built 230 violins, 60 violas, 25 cellos, four double basses and three viola da gamba. He used different kinds of local wood such as opium maple, poplar, and Balkan maple, which came to him from Germany. He changed several labels (that determine the period) and a few times the fire stamp (photo below).
He had his workshop inside his house, in Via Camposabbionario n ° 8. (see photo).
In 1974 he moved, together with his son Gabriele, to Cavacurta (Milan) and stopped working.
F HOLES modelS FROM PARESCHI'S WORKSHOP
By courtesy of M° liutaio Edmo Finotti.